The USS Belleau Wood was the 4th of 9 Independence Class Light Aircraft Carriers which were started from May 1, 1941 through October 26, 1942 at the New York Ship Building Yard in Camden New Jersey.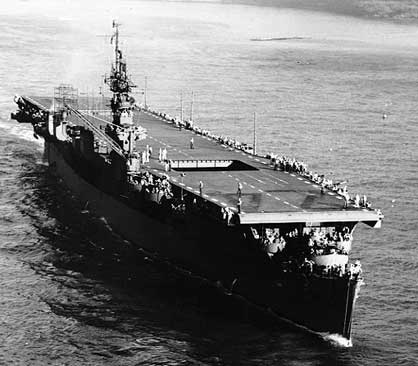 The keel of the light aircraft carrier USS Belleau Wood (CVL-24) was laid down as the light cruiser New Haven (CL-76) on August 11, 1941. On February 16, 1942 the under construction cruiser New Haven was ordered to be converted into a light aircraft carrier by the addition of a hanger deck and flight deck above that.
Specifications:
Displacement: 14,751 tons full load
Dimensions: 600 x 71.5 x 26 feet
Flight Deck: 573 x 71 feet
Propulsion: Steam turbines, 4 565 psi boilers,
4 shafts, 100,000 shp
Top Speed: 31.6 knots
Crew: 1,461
Armor: none
Armament: 2 quad, 8 dual 40 mm AA,
16 single 20 mm AA
Aircraft: 45 (maximum) 32 (nominal)

USS Belleau Wood was launched on December 6, 1942 and commissioned on March 31, 1943. After a brief shake down cruse to Trinidad she was ordered to join Task Force 50 in the Pacific and arrived in Pear Harbor on July 26, 1943.
On October 30, 1944 USS Belleau Wood was struck by a Kamikaze on her rear flight deck and the resulting fires and ammunition explosions killed 92 of her crew. She received temporary repairs at the advanced fleet anchorage of Ulithi, then onto Hunter's Point Naval base in San Francisco for more extensive repairs, returning to Ulithi and Task Force 58 on February 7, 1945.
On June 16, 1945 Air Group 31 was taken aboard the USS Belleau Wood at Leyte in the Philippines and they flew missions against targets on mainland Japan for the last 2 months of hostilities.
USS Belleau Wood remained in Japanese waters after the surrender and the pilots of Air Group 31 took part in the fly over of Tokyo during the official surrender ceremonies on September 2, 1945.
USS Belleau Wood arrived in Pearl Harbor on October 28, 1945 and departed for San Diego with 1248 returning service men. USS Belleau Wood continued to return service men from the Pacific until January 21, 1946 when she was placed out of active commission at Alameda Naval Air Station in San Francisco Bay.
USS Belleau Wood received a Presidential Unit Citation and 12 battle stars for her service in World War II
On September 5, 1953 USS Belleau Wood was transferred to France and on September 9, 1953 she was renamed Bois Belleau (R-97)
In September of 1960 Bois Belleau was returned to the Untied States and the following month she was stricken from the Naval records. She was sold for scrap and broken up in Chester Pennsylvania in 1962
Links to other sites with information about the Light Carrier USS Belleau Wood
USS Belleau Wood Association: http://www.ussbelleauwood.com/
History of the USS Belleau Wood: http://members.aol.com/oldfungi/cvl24his.html
Hazy Gray Brief History: http://www.hazegray.org/danfs/carriers/cvl24.htm