Fighter Squadron 31 (VF-31) was started on May 1, 1943 at the NAS (Naval Air Station) in Atlantic City New Jersey. At that time the buildings and hangers of the field were under construction and some of the runways were still incomplete. There were not even any aircraft located at the station for the pilots to train with when they arrived.
The first to arrive was was the Fighter Squadron commander Lieutenant Commander Robert Winston, followed by 11 other Ensigns who made up the initial Fighter Squadron 31.
Two SNJ trainers and one Hellcat were ferried in as their initial compliment of aircraft. One of the SNJ trainers along with both of the pilots on board were lost in a crash during their 1st week of training due to structural failure of the airframe. Four new pilots came into VF-31 the following week and some seasoned pilots, Lt. Mencin (VF-31 Exec. officer), Lt. (jg) Wirth and Lt. (jg) Scales transferred in along with some other older pilots increasing the total numbers to 19 fighter pilots and 6 TBF and SBD pilots. By June the squadron had their full compliment of 12 F6F-3 Hellcats.
VF-31 before the incorporation of the pilots of VF-43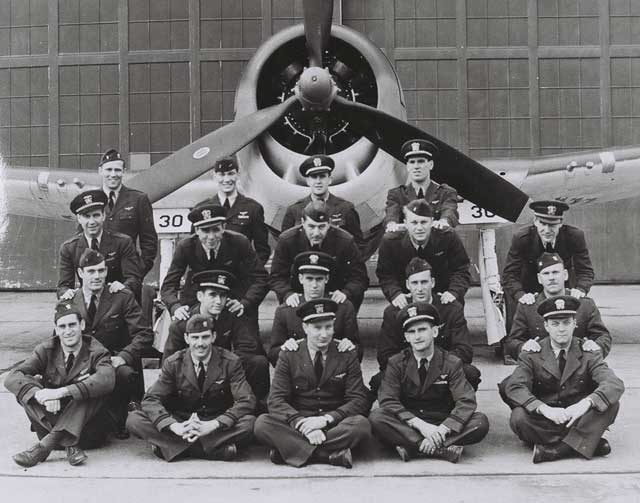 Top Row L-R: Bowie, Hayde, Anderson, Loomis
Third Row L-R: Scales, Wirth, Hendrick, Zimmerman, Charity
Second Row L-R: Wilson, Hawkins, Nooy, Galt, Carr
First Row L-R: Winston, Patterson, Mencin, Kona, Jamison
There would be one more training accident that took the life of another pilot near Quonset Point (NAS) Rhode Island.
The squadron chose as their insignia a flying Meataxe and the squadron motto Cut 'em Down
On August 30, 1943 VF-31 and VT-31 were assigned to USS Cabot for the new carrier's shake down cruise and they flew down to the Chesapeake Bay where they made their first landing on a CVL. They would make USS. Cabot their home for the next year. The following weeks were spend in practice take offs and landings on the small carrier.
On September 14, 1943 Cabot got underway for her shake down cruise to Trinidad which would last until she returned to Philadelphian Naval Yard on October 11, 1943. The cruise was filled with take off and landing practice. One fighter pilot was lost in an aerial collision between his Hellcat and a TBF Avenger. The Avenger managed to make it back to the carrier and land safely but the F6F had been cut in half and plunged into the sea.
After returning to Atlantic City NAS a change was made to the make up of the CVL Air Groups. The SDB Dauntless Dive Bomber was being replaced with the newer Curtis SB2C Helldiver which was too large to take off and land on the smaller CVL carrier decks. The 9 SDB pilots were transferred to one of the Essex class carriers and 14 additional fighter pilots were assigned from VF-43 to VF-31, doubling the size of the fighter squadron and adding a few more seasoned pilots to the ranks Lt. Stewart and Lt. Mulcahy, both future aces, came onboard VF-31 from VF-43.
Air Group 31 would be comprised of Fighter Squadron 31: 24 - F6F-3 Hellcat fighters and Torpedo Squadron 31:
8 - TBM-1c and 1 TBF-1c. The full compliment of 33 aircraft would be maintained through out their tour of duty.
VF-31 Just Before Leaving for Active Duty
Top Row: Winston, Patterson, Conant, Reiger, Mulcahy, Froelick, Mencin, Wilson, Galt, Wirth, Anderson
Middle Row: Dietrhch, Godsey, Osborne, Duggins, Jemison, Turner, Karr, Nooy, Hawkins, Hayde, Andrews.
Bottom Row: Hancock, Edwards, Elezian, Whitworth, Pacosa, Kona, Hendrick, Zimmerman, Bowie, Scales.
Two more pilots (Ens Driscoll and Ens. Sweatt) were assigned from VF-52 the day before the USS Cabot embarked for the Pacific theater. USS Cabot left Quonset Point on November 7th 1943 and passed through the Panama Canal on November 14th on her way to San Diego. There she picked up the officers, men, and fighter aircraft of Fighter Squadron 36 (VF-36) to transport them to Pearl Harbor which she reached on November 27th. The following weeks were taken up with more practice take offs and landings until the USS Cabot joined Task Group 58.2.
On January 15 1944 USS Cabot and the men of Air Group 31 embarked from Pearl Harbor along with with the 9 carriers of Task Force 58 for their first engagement which would take place on January 29, 1944 at Kwajalein Atoll. This would be the last time that the Pacific Fleet would use Pearl Harbor as their base of operations. After this time the US Fleet anchorage would be in the western pacific, first at Majuro Atoll and later further west to Kwajalein Atoll.